I am a Senior Research Scientist in the Advanced Computing, Mathematics, and Data Division at the Pacific Northwest National Laboratory. I am a member of the Data Sciences Group and lead the Data Analytics team. My research interests broadly include parallel graph algorithms, data intensive computing, scientific computing, high-performance computing, and machine learning.
I was a member of the High Performance Computing group from December 2009 to December 2014.
I am also an adjunct faculty member in the department of computer science at the Old Dominion University, and formerly with the department of computer science at the Washington State University.
---
Current Projects:
Previous Projects:
---

Erdös number:
My Erdös number is 3: Halappanavar --> Manne --> Hedetniemi --> Erdös
Langguth, Johannes; Azad, Ariful; Halappanavar, Mahantesh; Manne, Fredrik. "On Parallel Push-Relabel Algorithms for Bipartite Maximum Matching." Elsevier Journal of Parallel Computing: Systems and Applications. 40, 7 (July 2014), 289 -- 308.
Blair, Jean; Goddard, Wayne; Hedetniemi, Sandra M.; Hedetniemi, Stephen T.; Manne, Fredrik; Rall, Douglas. "Emergency response sets in graphs." J. Combin. Math.  and Combin. Comput. 68 (2009), 225 -- 243.
Erdös, P.; Hare, W. R.; Hedetniemi, S. T.; Laskar, R. "On the equality of the Grundy and chromatic numbers of a graph." J. Graph Theory 11 (1987), no. 2, 157 -- 159.
Source: American Mathematical Society MathSciNet.
---
Genealogy:
Source: Mathematics Genealogy Project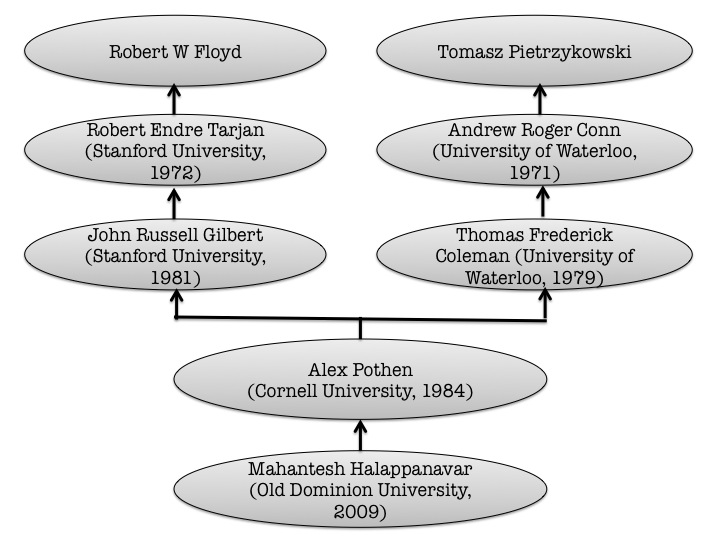 ---
Last updated: